Fire Prevention Week is October 4-10, 2020
Serve Up Fire Safety in the Kitchen!TM
Cooking Safety: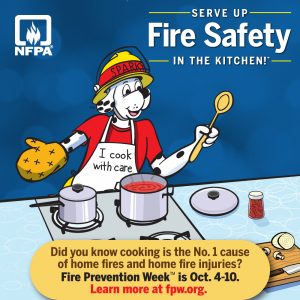 According to the National Fire Protection Association, two of every five reported U.S. home fires start in the kitchen, which is more than any other room in the home. The U.S. Fire Administration adds that almost half of all residential fires in the U.S. are caused by cooking. Cooking equipment is also the leading cause of unreported fires and associated injuries.
While cooking presents many fire hazards, these are basic tips to keep in mind to prevent kitchen fires:
Always stay in the kitchen while cooking on the range, especially when frying food.
Keep things that can burn, such as dish towels, paper or plastic bags, oven mitts, wooden utensils, and curtains at least three feet away from the range top.
Keep your cooking area clean. Do not let grease build up on the range top, toaster oven, or in the oven.
If you are simmering, baking, roasting, or boiling food, check it regularly, remain in the home while food is cooking, and use a timer to remind you that you're cooking.
Stay alert at all times while cooking. Do not cook if you have been drinking alcohol or have taken medicine that makes you drowsy.
Keep pets off cooking surfaces and nearby countertops to prevent them from knocking things onto the burner.
Wear short, close-fitting, or tightly rolled sleeves
Choose the right cooking equipment and make sure that it is used properly. Do not use equipment that has not been tested and approved, and make sure that you follow the manufacturer's instructions when installing and using the equipment.
Do not use an extension cord for cooking equipment. Cooking equipment can cause the circuit to overload, which could start a fire.
Did you know?
In a typical home fire, you may have as little as one to two minutes to escape safely from the time the smoke alarm sounds. Escape planning and practice can help you make the most of the time you have, giving everyone enough time to get out.
Plan ahead for your escape. Make your home escape plan and practice today.
Fire Escape Plan Grid
Home Fire Escape Planning
Home fire escape planning and drills are an essential part of fire safety. A home fire escape plan needs to be developed and practiced before a fire strikes.
A home escape plan should include the following:

Two exits from every room in the home – usually a door and a window
Properly installed and working smoke alarms
A meeting place outside, in front of the home, where everyone will meet after they exit
A call to 9-1-1 or the local emergency number from a cell phone or a neighbor's phone
Smoke Alarms
Smoke alarms detect and alert people to a fire in the early stages. Smoke alarms can mean the difference between life and death in a fire.
Working smoke alarms cut the risk of dying in a home fire in half.
Install smoke alarms in every sleeping room, outside each separate sleeping area, and on every level of the home, including the basement.
Test smoke alarms at least once a month using the test button.
Make sure everyone in the home understands the sound of the smoke alarm and knows how to respond.
Activities for Children
Resources: