Fire Safety and Hoarding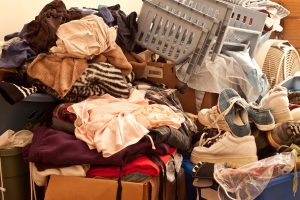 Did you know that in 2016, 1 in 5 fatal fires in SC were in homes with hoarding or derelict conditions?
What is hoarding?
DSM-5 recognizes hoarding as a disorder (as of May 2013).
Hoarders have a genetic and neurological component which creates inflated anxiety when confronted about not having a certain possession, and creates extreme grief about losing a certain possession.
Hoarders are not lazy, disorganized, or unclean- but their homes are.
They lead typical lives and are not necessarily loners.
Between 5 million and 14 million people in the US are diagnosed hoarders. (These are underestimated numbers!)
Hoarding gets worse as the patient gets older.

Indications of hoarding start in childhood.
Hoarding creates unsafe conditions:
Increased risk of ignitions- using improper electrical situations, no safe heating or cooking source, no safe way to extinguish cigarettes, etc.
Increased fire spread- increased fire load
Decreased ability to escape- trip hazards, blocked exits, narrow paths/stairs
Decreased ability to be aware of fire- fire could be unnoticed in a room that is inaccessible
Inability of first responders to enter a home- blocked exits go both ways
How does hoarding affect the fire service?
The fire service fills many roles in a community, from fire prevention to rescue to medical calls and more.
The fire service must be able to access members of the community to safely do their job.
How can you help?
Be sure to have all exits/entrances clear
Have working smoke detectors in all rooms
Have all rooms assessable
Please contact us if you would like more information about hoarding and fire safety.
Greenville Mental Health Center Services Available to Hoarders
The Greenville Mental Health Center located at 124 Mallard Street in downtown Greenville is a public mental health facility of the South Carolina Department of Mental Health.  It provides quality mental health services to adults, children, adolescents, and their families. The Center has a staff of over 150 individuals including a medical staff of 10 doctors, 13 nurses and over 70 therapists.  If client needs can be met here at the Center, an appointment is scheduled for a client assessment. The case is assigned to the most appropriate program at the Center and appointments are scheduled either at a later date or immediately, depending on the needs of the client.  http://www.greenvillementalhealth.org  Phone: (864) 241-1040
Resources:
South Carolina Office of State Fire Marshal
Jayne G. Crisp, Community Liaison, Greenville Mental  Health Center