Other Safety – Pool and Swimming Safety
Learn about Electrical Safety around swimming pools, hot tubs, and spas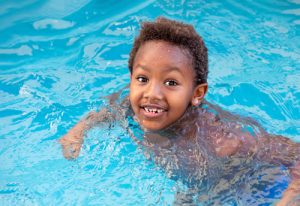 Did you know that drowning is the leading cause of unintentional death in children ages 1-4? For every child who drowns, five more require emergency room visits for nonfatal submersion injuries. Drownings happen quickly and are often silent – It's not like in the movies, where children are portrayed as splashing and yelling for help.
Fatal drownings are preventable, but to prevent these tragedies, we need everyone to always follow simple water safety steps for everyone – all ages.
Simple steps can save lives! Drowning is preventable.
Follow these Safety Steps around Pools and Spas
Supervision

An adult should be designated to watch those in the pool and actively supervise children in and around the water. Keep distractions to a minimum.
Do not leave children unattended.
The designated water watcher should be close to the edge of the pool and do regular headcounts.
Step in when there is too much horsing around.
If you are in a group of kids and parents, always know who the water watcher is but still keep track of your children.
Do not make phone calls or texts or chat with friends until the kids are safely out of the water.
Invest in toddler life jackets. Water toys such as water wings, noodles, and flotation devices do not prevent drowning.

Fencing

Always have fencing surrounding your entire pool or spa. If your home acts as a wall for your pool or spa, be sure to use door alarms.
fences should be at least 4 feet high ideally 5 feet and impossible to climb
Fencing should have a self-closing and latching gate with a latch-release knob that can't be reached by small children
A fence does not replace supervision or water safety skills

Pool and Spa Covers

Visually they say, "Not open!"
Covers should be strong enough to hold a child or children that don't know any better.
Spas should always be covered and locked when not in use.
Remove ladders on above-ground pools when not in use.

Door and Gate Pool Alarms

Door alarms let you know if the door near the pool has been opened
Gate alarms alert you when the gate latch has been opened
There are many types of pool alarms

Wave detection
depth detection
wearable devices that alert you if they get wet

Close supervision is always a requirement

Safety Drain Covers

Pool safely by avoiding drains, skimmers, pipes, and other types of equipment.
Safety Drain Covers help prevent swimsuit straps, hair, or jewelry from getting entangled.
The shape of safety drain covers helps prevent suction from trapping a person.

Learn how to swim

Drownings and close calls happen eight times more often to kids that can't swim or kids supervised by someone that can't swim.
Sign your children up for swimming lessons. Your local YMCA or parks and rec department are great places to go for information on swimming lessons – many even offer them for free or at a reduced cost.
Ask your swim instructor to include water safety skills.
Even good swimmers can drown, so make sure there is always supervision.

Learn CPR

In the case of an emergency, bystander CPR can often make a real difference while you're waiting for emergency first responders to arrive at the scene.
Take a CPR refresher course
Portable Pool Safety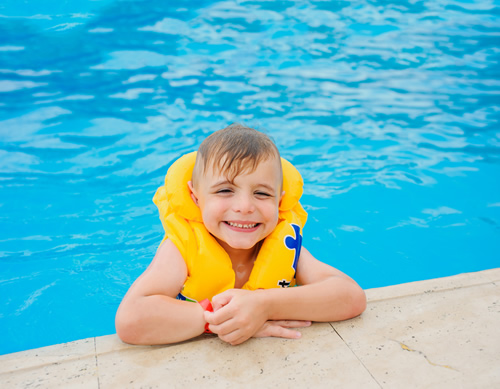 Fence Them! Cover Them! Put Them Away!
Portable pools vary in size and height, from tiny blow-up pools to larger designs that hold thousands of gallons of water. They are easy to use, affordable, and fun for the family. But portable pools can be deadly and present a real danger to young children. For more tips on how to stay safer around the water, visit poolsafely.gov.
Here are some general tips for children's safety around portable pools:

• Empty and put away smaller portable pools after every use.
• Once the pool is set up, ensure high levels of supervision.
• Fence portable pools and encourage your neighbors to do the same.
• Cover larger portable pools and put access ladders away when adults are not present.
• Install alarms on doors leading from the house to the pool area that will alert you when someone enters the pool area.
• Teach children to swim, float, and other basic life-saving skills; do not consider young children "drown-proof" because they have had swimming lessons.
• Make sure your neighbors, babysitters, and visitors know about the pool's presence in your yard.
• Learn and practice CPR so you can help in an emergency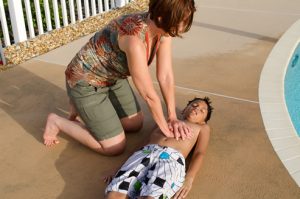 The CDC recommends these essential drowning prevention tips:
Learn life-saving skills: Everyone should know the basics of swimming (floating, moving through the water) and cardiopulmonary resuscitation (CPR).
Fence it off: Install a four-sided isolation fence, with self–closing and self–latching gates, around backyard swimming pools. A fence can help keep children away from the area when they aren't supposed to be swimming. Pool fences should completely separate the house and play area from the pool.
Make life jackets a must: Make sure kids wear life jackets in and around natural bodies of water, such as lakes or the ocean, even if they know how to swim. Life jackets can be used in and around pools for weaker swimmers too.
Be on the lookout: When kids are in or near water (including bathtubs), closely supervise them at all times. Because drowning happens quickly and quietly, adults watching kids in or near water should avoid distracting activities like playing cards, reading books, talking on the phone, and using alcohol or drugs.
https://www.cdc.gov/safechild/drowning/
Learn more about water-related injuries here:
Pool Safely Educational Videos
Learn more at Poolsafety.gov.