Other Safety – School Year Safety
School Year Safety
August is a busy time of year for many parents as their children start school or go back to start a new school year. It is also an important time to review Back to School Safety. Here are some tips for staying safe during the school year: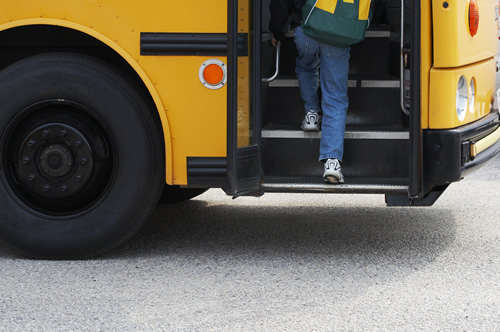 School bus safety:
Getting on the bus:
Stay away from traffic and avoid play or other behavior that can lead to carelessness
Line up 6 feet away from the curb/road as the bus approaches
Do not approach the bus until the bus comes to a complete stop and the door opens
Use the handrail when boarding the bus
Safety on the bus:
Buckle up if seat belts are available
Speak softly and keep noise to a minimum, and do not distract the driver
Stay in your seat
Stay inside of the window
Keep your belongings under your seat
Wait for the bus to come to a complete stop before you get out of your seat
Getting off the bus:
Use the handrail when getting off the bus
If you have to cross in front of the bus, first walk at least 10 ft ahead until you can see the driver
Make sure the driver can see you
When the driver signals, look left, then right, then left again. Walk across the road while keeping an eye out for sudden traffic changes
If your vision is blocked, move to an area where you can see drivers and they can see you
Stay away from the wheels of the bus at all times
According to NHTSA, more school-age pedestrians have been killed the hours before and after school than at any other time of day. And, although drivers are required by law to stop for a school bus when it's loading or unloading passengers, they often don't. Children should not rely on them to do so.
Walkers:
Walk on the sidewalk; if there is no sidewalk and you must walk in the street, walk facing traffic
Before crossing the street, stop and look left, right, and left again to see if cars are coming
Never dart out in front of a parked car
Parents: Practice walking to school with your child, crossing streets at crosswalks when available
Never walk while texting or talking on the phone
Do not walk while using headphones
Bike Riders:
Always wear a helmet that is fitted and secured properly
Children need to know the rules of the road: Ride single file on the right side of the road, come to a complete stop before crossing the street and walk the bike across
Watch for opening car doors and other hazards
Use hand signals when turning
Wear bright-colored clothing
Drivers, Share the Road
Don't block crosswalks
Yield to pedestrians in crosswalks, and take extra care in school zones
Never pass a vehicle stopped for pedestrians
Never pass a bus loading or unloading children
The area 10 feet around a school bus is the most dangerous for children; stop far enough back to allow them to enter and exit the bus safely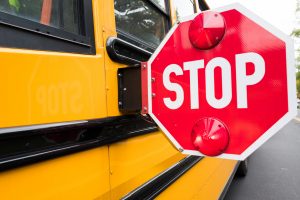 School Zone Safety:
Adjust your route to avoid school zones.
Slow down! Speed limits in school zones tend to be five to 10 miles per hour below the average posted speed.
Stop for buses. Passing a stopped school bus is against the law.
Watch for pedestrians, especially on sidewalks and around driveways, intersections, and residential neighborhoods.
If you must drive through a school zone, give yourself extra time. Being in a hurry near pedestrians is never safe. Especially in highly populated areas, pedestrians may assume that because they can see your vehicle, you can see them and will stop. Avoid distractions like using a cellphone or looking for something in your car while driving in a zone with pedestrians.
Latchkey Kid Safety
Set rules, expectations, and proper safety guidelines for things such as leaving the house, having friends over, cooking, and answering the phone
Have emergency contact information readily available
Safeguard your home. Lock up anything dangerous such as alcohol, firearms, and poisonous or flammable materials
Create a family plan for fires or other emergencies and practice the plan
Equip your child with a cellphone and program it with your number, 911, and any other emergency contacts like a neighbor or family member
Place emergency numbers in a prominent location
Teach them signs of danger like an open door or broken window
Let your child know where you will be and when you will return
Have a fire escape plan and plans for emergencies
Have a first aid kit and all necessities available
Check-in with your child/children periodically
Be cautious where you hide keys
Practice possible emergencies
Make sure children don't share that they are home alone with others. They should be taught not to answer unexpected phone calls or answer the doorbell
Restrict online access
Resources:
https://www.protectamerica.com/latchkey-kids
https://www.aarp.org/auto/driver-safety/info-2017/school-zone-driver-safety-tips-fd.html
https://www.nsc.org/home-safety/tools-resources/seasonal-safety/back-to-school/bus
https://www.cpss.net/about/blog/2015/10/latchkey-kids-home-alone-safety-tips