Fire Safety – Crockpot Safety
Many people love the ease of creating meals and desserts with their crockpots.  They are usually safe, but there are a few things to be mindful of when using a crockpot.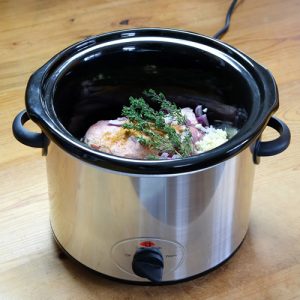 While the chance of an accident happening while using a slow cooker or crockpot is somewhat low, our fire safety experts here at NFPA suggest some great tips to consider whenever you're using some of these smaller appliances:
Inspect plugs and cords to make sure they are not frayed or broken (replace if necessary), which will help keep electrical fires at bay
Keep the crockpot and slow cooker (or other small appliance) away from the edge of the counter so hands and elbows don't push it off the edge causing burns or scalds from the hot liquid and food inside
Keep it on a flat stable surface
Unplug your crockpot when it is not in use
Use caution when purchasing or accepting used appliances
Follow instructions for recipes carefully using the right amount of liquid and heat when preparing your meal to prevent overheating
As always, be sure your smoke detectors are working.
Sources:
https://www.goodhousekeeping.com/appliances/slow-cooker-reviews/news/a47822/slow-cooker-fire-safety-tips/
https://community.nfpa.org/community/safety-source/blog/2015/02/09/slow-cookers-crockpots-and-small-appliance-fire-safety-oh-my
https://www.nfpa.org/News-and-Research/Publications/NFPA-Journal/2018/March-April-2018/News-and-Analysis/Dispatches