FIRE SAFETY
CANDLE SAFETY
From 2009-2013, U.S. fire departments responded to an estimated 9,300 home structure fires that were started by candles. These fires caused 86 deaths, 827 injuries and $374 million in direct property damage. Candles caused 3% of reported home fires, 3% of home fire deaths, 6% of home fire injuries, and 5% of the direct property damage from home fires during this period.
Facts and figures
During the five-year period of 2009-2013:
Roughly one-third (36%) of home candle fires started in bedrooms. These fires caused 32% of the associated deaths and 47% of the associated injuries.
On average, 25 home candle fires were reported per day.
Falling asleep was a factor in 11% percent of the home candle fires and 30% of the associated deaths.
More than half (58%) of home candle fires occurred when some form of combustible material was left or came too close to the candle.
December is the peak time of year for home candle fires. In December, 11% of home candle fires began with decorations compared to 4% the rest of the year.
Source: NFPA's "Home Candle Fires" report, by Marty Ahrens, December 2015
Printable Candle Safety Tips from NFPA
SMOKE ALARMS
Smoke alarms detect and alert people to fire in its early stages, giving them the time needed to escape safely. When working properly, smoke alarms can mean the difference between life and death in a fire.
Smoke alarms must be maintained properly and tested regularly to ensure their effectiveness.
Smoke alarms should be replaced every 10 years.
Make sure you know how old all the smoke alarms are in your home.
To find out how old a smoke alarm is, look at the date of manufacture on the back of the alarm; the alarm should be replaced 10 years from that date.
Smoke Alarms English | Smoke Alarms Spanish
Smoke Alarms for people who are deaf or hard-of-hearing
Read more about smoke alarm facts.
Home Smoke Alarm Statistics
PLAN FOR A FIRE
Every second counts in the event of a fire. Plan and practice home fire drills.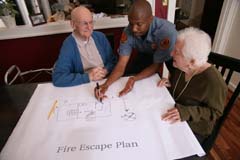 Plan
Draw a map of your home with all doors and windows.
Share the map with your family.
Have at least two ways out of each room.
Pick a place to meet after you escape to check that everyone got out.
Practice
Practice a home fire drill twice a year.
Check to see that doors and windows open easily.
Push the smoke alarm button to start the drill.
Practice feeling your way around in the dark.
Practice "Get Low and Go" to the nearest exit.
Teach children to never hide during a fire.
Resources:
"Have Two Ways Out" public service announcement
FIRE SAFETY FOR THE HOMELESS
HTTP://WWW.WYFF4.COM/NEWS/FIREFIGHTERS-SPREAD-THE-WORD-ABOUT-FIRE-PREVENTION/29567310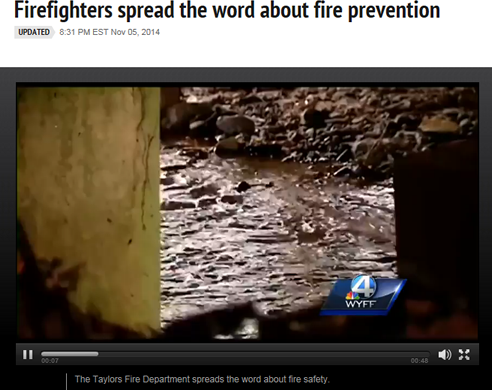 The Taylors Fire Department wants to spread the word about fire prevention. Firefighters brought baskets of food to areas where… They say… homeless people often gather… and talked to them about fire safety. This comes after emergency responders saw smoke coming from under a bridge over the weekend… And found a homeless man with third degree burns. It happened a short distance from the fire department. "We've never really thought about doing fire prevention for the homeless, but that's something Taylors is going to start doing now. We're going to start visiting these people and trying to teach them about fire safety especially in the winter time when they're trying to stay warm." Asst. Chief Bobby Van Pelt
http://www.foxcarolina.com/video?autoStart=true&topVideoCatNo=default&clipId=10840692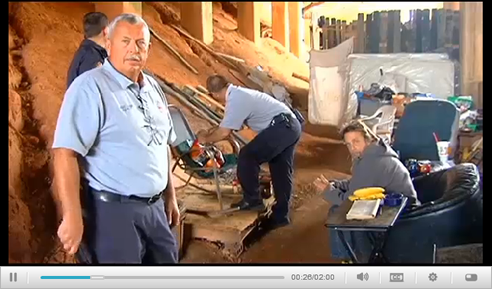 Tips for staying safe:
Make sure fires are in a dig out pit, have rocks or other noncombustible material around the pit to contain the fire.  Never leave a fire unattended.
Keep couches, furniture, and other combustibles a minimum of 15′ away from the fire. Tents, tarps and other highly flammable items should be kept a minimum of 25′ away from the fire.
If you have kerosene heater or other portable heater keep a minimum of 3′ from combustibles.
Never leave candles unattended.
Use caution where placing candles. Never place them near curtains, bedding, other combustibles, or where they can be easily turned over.
Never smoke in bed or leave a lit cigarette unattended.
Keep several gallons of water nearby in case of emergency to extinguish fire.
GENERATOR SAFETY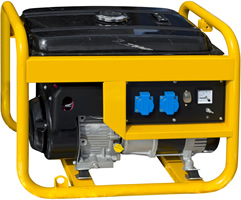 Portable generators are useful during power outages. However, many homeowners are unaware that the improper use of portable generators can be risky. Generators emit carbon monoxide which is also known as CO. Carbon monoxide is called the "Invisible Killer" because it's a colorless, odorless, poisonous gas. More than 150 people in the Unites States die every year from accidental non fire-related CO poisoning associated with consumer products, including generators. Other products include faulty, improperly-used or incorrectly-vented fuel-burning appliances such as furnaces, stoves, water heaters and fireplaces.
FACTS AND FIGURES:
CO deaths associated with generators have spiked in recent years as generator sales have risen.
In 1999, generators were associated with 6% of the total yearly estimated CO poisoning deaths associated with all consumer products compared to 24% in 2002.
There were at least 64 deaths in 2005 alone from CO poisoning associated with generators.
The dangers of CO exposure depend on a number of variables, including the victim's health and activity level. Infants, pregnant women, and people with physical conditions that limit their body's ability to use oxygen (i.e. emphysema, asthma, heart disease) can be more severely affected by lower concentrations of CO than healthy adults would be.
A person can be poisoned by a small amount of CO over a longer period of time or by a large amount of CO over a shorter amount of time.
In 2010, U.S. fire departments responded to an estimated 80,100 non-fire CO incidents in which carbon monoxide was found, or an average of nine such calls per hour.  The number of incidents increased 96 percent from 40,900 incidents reported in 2003. This increase is most
PREVENTION TIPS:
Generators should be operated in well ventilated locations outdoors away from all doors, windows and vent openings.
Never use a generator in an attached garage, even with the door open.
Place generators so that exhaust fumes can't enter the home through windows, doors or other openings in the building.
Make sure to install carbon monoxide (CO) alarms in your home. Follow manufacturer's instructions for correct placement and mounting height.
Turn off generators and let them cool down before refueling. Never refuel a generator while it is running.
Store fuel for the generator in a container that is intended for the purpose and is correctly labeled as such. Store the containers outside of living areas.
KNOW THE SYMPTOMS OF CO POISONING
Source: Consumer Product Safety Commission
Because CO is odorless, colorless, and otherwise undetectable to the human senses, people may not know that they are being exposed. The initial symptoms of low to moderate CO poisoning are similar to the flu (but without the fever). They include:
Headache
Fatigue
Shortness of breath
Nausea
Dizziness
High level CO poisoning results in progressively more severe symptoms, including:
Mental confusion
Vomiting
Loss of muscular coordination
Loss of consciousness
Ultimately death
CO ALARMS:
Install and maintain CO alarms inside your home to provide early warning of carbon monoxide.
CO alarms should be installed in a central location outside each separate sleeping area and on every level of the home.
Choose a CO alarm that has the label of a recognized testing laboratory.
CO alarms are not substitutes for smoke alarms. Know the difference between the sound of smoke alarms and the sound of CO alarms.
Printable Generator Safety PDF
Printable Portable Generators and Winter Storms PDF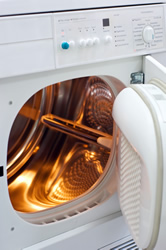 In 2006-2010, there were 16,950 home structure fires per year reported to U.S. fire
departments where clothes dryers or washing machines were the equipment involved in ignition, with associated annual losses of 34 civilian deaths, 430 civilian injuries, and $209 million in direct property damage. Dryers alone accounted for 92% of these fires and 87% of the reported deaths. The leading factor contributing to ignition was failure to clean the clothes dryer. The risk of fire is roughly equal for gas-fueled clothes dryers and electric-powered
clothes dryers. These estimates are based on data from the U.S. Fire Administration's (USFA's) National Fire Incident Reporting System (NFIRS) and the National Fire Protection Association's (NFPA's) annual fire department experience survey. Read more here.
View FOX Carolina Video Segment about dryer safety.
Follow these simple steps to help prevent a clothes dryer fire:
Have your dryer installed and serviced by a
professional.
Do not use the dryer without a lint filter.
Make sure you clean the lint filter before or after
each load of laundry. Remove lint that has collected
around the drum.
Rigid or flexible metal venting material should be
used to sustain proper air flow and drying time.
Make sure the air exhaust vent pipe is not restricted
and the outdoor vent flap will open when the dryer
is operating. Once a year, or more often if you
notice that it is taking longer than normal for your
clothes to dry, clean lint out of the vent pipe or
have a dryer lint removal service do it for you.
Keep dryers in good working order. Gas dryers
should be inspected by a professional to make sure
that the gas line and connection are intact and free
of leaks.
Make sure the right plug and outlet are used and
that the machine is connected properly.
Follow the manufacturer's operating instructions
and don't overload your dryer.
Turn the dryer off if you leave home or when you
go to bed.
CARBON MONOXIDE – SUMMER SAFETY
Most people think of carbon monoxide poisoning in the winter months but carbon monoxide poisoning also happens during the summer months. Never use any gas-powered equipment in an enclosed space. CO levels can rise very quickly if there is not proper ventilation. Never use gas or propane-powered equipment such as lawnmowers, chain saws and weed-eaters in an enclosed area such as a garage, storage bldg or basement.
You can also get CO poisoning by using a fuel-burning lamp, heater or stove in a tent.
SUMMER CO SAFETY TIPS
1. Do not burn charcoal inside a tent, or any other unventilated area outside.
2. Do not grill inside.
3. Never leave your car running in a garage, even if the garage door is open.
4. Don't use gas-powered tools and engines indoors. If this is unavoidable, open all the windows and doors and make sure the room is well ventilated.
5. Install CO detectors in boats and recreational vehicles
6. Don't use fuel-burning heaters or lanterns in a camper, tent, or other enclosure.
7. Don't let children or adults swim near the exhaust from a boat engine, and don't stand directly over the boat's exhaust pipe while on deck.
If you suspect CO poisoning please head seek medical assistance right away.
KNOW THE SYMPTOMS OF CO POISONING
Source: Consumer Product Safety Commission
Because CO is odorless, colorless, and otherwise undetectable to the human senses, people may not know that they are being exposed. The initial symptoms of low to moderate CO poisoning are similar to the flu (but without the fever). They include:
Headache
Fatigue
Shortness of breath
Nausea
Dizziness
High level CO poisoning results in progressively more severe symptoms, including:
Mental confusion
Vomiting
Loss of muscular coordination
Loss of consciousness
Ultimately death
FIREWORKS SAFETY
EACH JULY 4TH, THOUSANDS OF PEOPLE, MOST OFTEN CHILDREN AND TEENS, ARE INJURED WHILE USING CONSUMER FIREWORKS.
Despite the dangers of fireworks, few people understand the associated risks – devastating burns, other injuries, fires, and even death.
Fireworks during the Fourth of July are as American as apple-pie, but did you know that two out of five fires reported on that day are started by fireworks, more than for any other cause? The good news is you can enjoy your holiday and the fireworks, with just a few simple safety tips:
Proceed with caution!
Leave fireworks to the professionals. Do not use consumer fireworks.
The safest way to enjoy fireworks is to attend a public display conducted by trained professionals.
After the firework display, children should never pick up fireworks that may be left over, they may still be active.
Legal or not fireworks are too risky for amateurs
Permanent scarring, loss of vision, dismemberment – these are too often the harsh realities of amateur fireworks use. To keep the public safe from fireworks-related injuries and deaths, the nonprofit NFPA urges everyone to treat fireworks, whether legal or illegal for consumers, as suitable only for use by trained professionals. According to NFPA, amateur fireworks use endangers not only the users, but also bystanders and surrounding property and structures. Pyrotechnic devices ranging from sparklers to aerial rockets cause thousands of fires and serious injuries each year.
"Safe and sane fireworks don't exist," Judy Comoletti, NFPA's Division Manager of Public Education. "When things go wrong with fireworks, they go very wrong, very fast, far faster than any fire protection provisions can reliably respond." Read more.
Sparkler Safety Tip from South Carolina State Fire: Youngsters arms are too short to hold sparklers, which can heat up to 1,200 degrees and cause third degree burns. Let your young children use glow sticks instead. Sparklers cause 16 percent of consumer fireworks injuries, per U.S. Consumer Product Safety Commission. Young children account for the majority of sparkler injuries.
If your child is going to hold a sparkler put the end through a cup so that your child's hand is protected.
SC Fire Marshal's List of Fireworks Safety Tips
"You cannot take safety for granted when it comes to fireworks," State Fire Marshal Jonathan Jones said. "We want everyone to have fun, but safety precautions must come first."
Here is the list of dos:
Observe local laws. If unsure whether it is legal to use fireworks, check with local officials.
Observe local weather conditions. Dry weather can make it easier for fireworks to start a fire.
Buy from permitted fireworks retailers.
Store fireworks in a cool, dry place.
Always have an adult present when shooting fireworks.
Use common sense. Always read and follow the directions on each firework.
Only use fireworks outdoors, away from homes, dry grass, and trees.
Ensure people and pets are out of range before lighting fireworks.
Light one firework at a time and keep a safe distance.
Put used fireworks in a bucket of water; keep a garden hose on hand.
Don'ts:
Point or throw fireworks at another person.
Re-ignite malfunctioning fireworks.
Experiment or attempt to make your own fireworks.
Give fireworks to small children.
Carry fireworks in your pocket.
Shoot fireworks from metal or glass containers.
Place any part of your body directly over a fireworks device when lighting the fuse. Back up to a safe distance immediately after lighting fireworks.
In South Carolina, the law prohibits the sale of fireworks to anyone younger than 16 years old.
"There are hundreds of permitted professional fireworks displays available to South Carolinians to enjoy the Fourth of July holiday," Jones said. "Residents can consult their local fire officials for firework displays in their area."
Fireworks injuries statistics
National Council on Fireworks Safety Recommended Safety Tips
Information sources:
National Fire Protection Association
www.nfpa.org/education
US Fire Administration
Consumer Product Safety Commission
Non-Fire Carbon Monoxide Incidents," by Ben Evarts, March 2012